The Bronze Key
by
Holly Black
My rating:
5 of 5 stars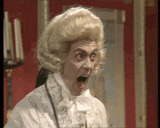 SWEET MOTHER OF GOD WHAT AN ENDING!
I did
NOT
see that one coming at all!!!!! I did, however, foresee who the Magisterium spy was although only when they did the thing (omitted due to spoilers) to hear what their witness had to say about the chandelier crash at the party.
EXCELLENT BOOK - leaving me waiting impatiently to see how this plays out in the end. I could expect nothing less from something from
Holly Black
& the delightful
Cassandra Clare
!
View all my reviews