The Golden Owl
by
Lana Axe
My rating:
5 of 5 stars
I received my copy of this ebook in exchange for a fair and honest review.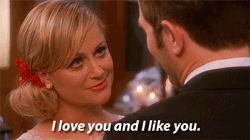 Leslie Knope says it best, y'all... Even though when she said it, it was to her new husband during her wedding vows but whatever, this is a book and my sentiment is the same! I think this is one of the only ebooks for review that has made my ALL TIME FAVOURITES list I love it so much!!!!
No, really,
Lana Axe
who are you? I had never heard of you before I picked up this book and yet, if it is as cleverly written as
The Golden Owl
, I want to read EVERYTHING that you've ever written!!!!
I am a huge animal lover (cats in particular) and I'm a sucker for stories where animals have a distinct consciousness and language. Cali, though a Calico cat who has been enhanced with clockwork implants, and her unlikely partner Emmit the mouse, are the heroes of our story. I want to say they remind me of Sherlock and Watson (with a little
Mission Impossible
fancy footwork and stylings thrown in for good measure!), but I'm not sure that would truly do them justice. Cali has such a personality all on her own, it's quite obviously written by an animal lover. I can't tell you about all the times I have imagined what secret adventures my feline friends must be getting up to when I leave the house for the day (although, it is much less so now that I'm older but when I was young I could come up with all kinds of different possibilities!) and I love that someone wrote a book about the heroes that I know any true feline friend would be!
This was an absolutely delightful tale (with it's own Moriarty in Morcroft) where the true evil animal (insect, arachnid whatever!) are the mechanical automatons that Morcroft crafted in the image of spiders. I hate spiders and I'm thankful that their dastardly sneakiness has been brought to light in this tale! An absolutely wonderful read for teens and adults alike. I can't wait to see more stories of this dynamic duo, right after I read the rest of the authors catalogue!!!!! Five ENTHUSIASTIC stars and two thumbs up!!!!
View all my reviews